Electric and hybrid cars: Cuts to Plug-in Car Grant condemned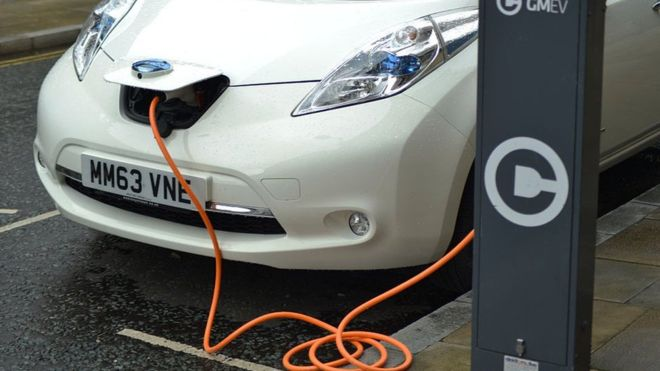 Motoring groups have condemned the government's decision to cut subsidies for buying greener cars.
From 9 November, grants for new plug-in hybrids will be scrapped, while discounts on all-electric cars will be cut from £4,500 to £3,500.
Cash incentives have been offered since 2011 to help promote cleaner cars and meet emissions targets.
The RAC and AA motoring groups said the change was a backward step, and the SMMT trade body called it "astounding".
The Department for Transport (DfT) said that the Plug-in Car Grant was introduced seven years ago to help the market become established.
It was now time to focus support on zero-emission models such as pure electric and hydrogen fuel cell cars, the DfT added.
The change comes three months after the government published its Road to Zero strategy, with a proposal to remove cars powered by petrol and diesel cars from UK roads by 2050.
Ultra-low emission vehicles currently available for discounts are placed into three categories:
The government said the cut in the support for Category 1 cars to £3,500 reflected recent reductions in the price of electric vehicles.
But motoring groups denounced the changes, saying it would leave the government struggling to meet its emissions reduction targets.
'Put off buyers'
Mike Hawes, chief executive of the SMMT motor manufacturers body, said removing the grant for plug-in hybrids was "totally at odds" with ambitions to cut CO2 and "sends yet more confusing signals to car buyers".
Manufacturers, which are having to adjust to tumbling sales of diesel cars, have invested heavily in electric technologies, he said.
"Prematurely removing up-front purchase grants can have a devastating impact on demand - without world-class incentives, government's world-class ambitions will not be delivered," Mr Hawes said.
The RAC's head of roads policy Nicholas Lyes said the move was "a major blow to anyone hoping to go green with their next vehicle choice".
"With up-front costs still a huge barrier for those hoping to switch to an electric vehicle, this move from the government is a big step backwards and is in stark contrast to countries like Norway where generous tax incentives have meant that it has one of the highest ownership levels of ultra-low emission vehicles of anywhere in the world."  
And Jack Cousens, head of roads policy for the AA, said: "The government wants to end the sale of petrol and diesel cars, but scrapping grants for low emission cars may well stall their progress.
"This announcement will simply put more drivers off from buying greener cars."